Plants and Animals
Somatochlora hineana
Hine's emerald dragonfly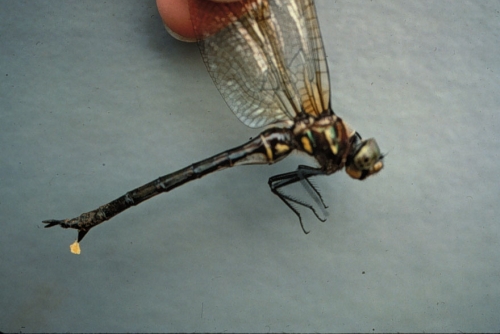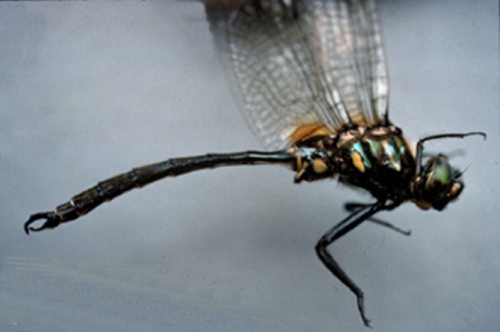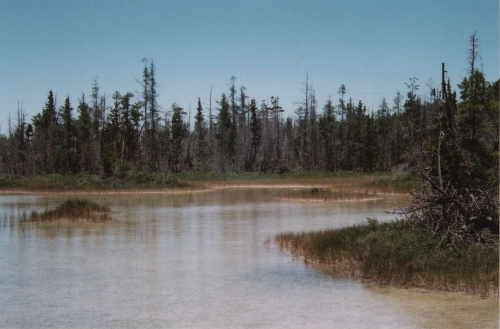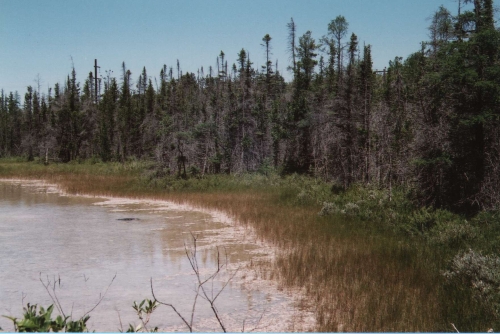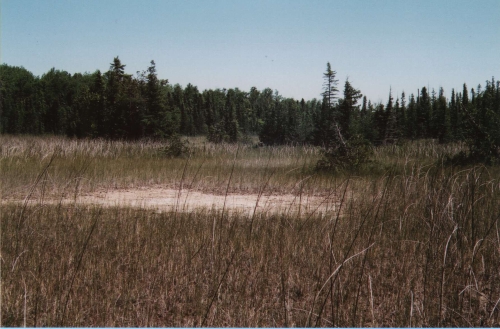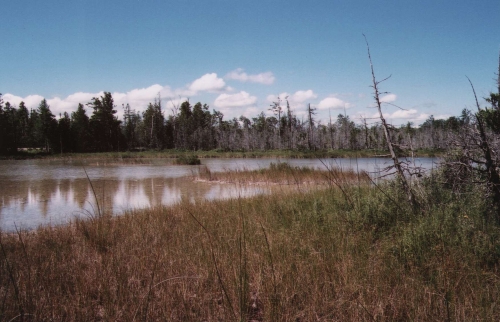 Key Characteristics
Hine's emerald adults, like other members of its family, have brilliant green eyes. Somatochlora hineana can be distinguished from all other species of Somatochlora by a combination of its dark metallic green thorax with two distinct creamy-yellow lateral lines and its distinctively shaped terminal appendages or genitalia. Adults have a body length of 2.3-2.5 inches (60-65 mm) and a wingspan of 3.5-3.7 inches (90- 95 mm).
Status and Rank
US Status: LE - Listed Endangered
State Status: E - Endangered (legally protected)
Global Rank: G2G3 - Rank is uncertain, ranging from imperiled to vulnerable
State Rank: S1 - Critically imperiled

Occurrences
| County | Number of Occurrences | Year Last Observed |
| --- | --- | --- |
| Alcona | 1 | 2015 |
| Alpena | 2 | 2015 |
| Charlevoix | 1 | 2013 |
| Mackinac | 11 | 2015 |
| Presque Isle | 1 | 2004 |
Information is summarized from MNFI's database of rare species and community occurrences. Data may not reflect true distribution since much of the state has not been thoroughly surveyed.
Habitat
Important habitat characteristics of Hine's emerald sites include graminoid dominated wetlands which contain seeps, or slow moving rivulets; cool, shallow water slowly flowing through vegetation; and open areas in close proximity to forest edge. The shallow, flowing, cool water provides important larval habitat and the open areas with adjacent woodland edge provide adult hunting and roosting habitat. Michigan Hine's emerald dragonfly sites could be classified as calcareous wetlands or northern fens with an underlining layer of shallow dolomite. Dominant vegetation in northern fens include sedges (Carex aquatilis, C. lasiocarpa, C. limosa, etc.), shrubby cinquefoil (Potentilla fruticosa), bulrushes (Scirpus spp.), rushes (Eleocharis spp.), and twig-rush (Cladium mariscoide). White cedar (Thuja occidentalis) commonly surrounds and invades northern fens. Other communities in and around Hine's emerald observation locations include: rich conifer swamps, marl fens, coastal fens with seeps, marl pools, hummocks, shallow pools, and small creeks. Lotic - depositional (springs).
Specific Habitat Needs
Depositional spring needed in: Headwater stream (1st-2nd order), pool.
Natural Community Types
Headwater stream (1st-2nd order), pool
For each species, lists of natural communities were derived from review of the nearly 6,500 element occurrences in the MNFI database, in addition to herbarium label data for some taxa. In most cases, at least one specimen record exists for each listed natural community. For certain taxa, especially poorly collected or extirpated species of prairie and savanna habitats, natural community lists were derived from inferences from collection sites and habitat preferences in immediately adjacent states (particularly Indiana and Illinois). Natural communities are not listed for those species documented only from altered or ruderal habitats in Michigan, especially for taxa that occur in a variety of habitats outside of the state.
Natural communities are not listed in order of frequency of occurrence, but are rather derived from the full set of natural communities, organized by Ecological Group. In many cases, the general habitat descriptions should provide greater clarity and direction to the surveyor. In future versions of the Rare Species Explorer, we hope to incorporate natural community fidelity ranks for each taxon.
Management Recommendations
The most significant threats to the existence of this species have been identified as habitat destruction or alteration, and contamination. Types of direct habitat loss include commercial and residential development, quarrying, creating landfills, constructing pipelines, and filling of wetlands. Alteration of habitats include changing the hydrology of sites. This may include building roads, railways, pipelines, and ditches; flooding areas; pulling surface water from nearby areas for irrigation purposes; or pumping groundwater, which could lower groundwater levels. Roads and railroads which bisect suitable habitat are especially problematic. Wetland hydrology and quality should also be maintained by preventing improper off-road vehicle use and controlling invasive weeds in these areas. Contamination is a concern due to chemicals and their slow movement through these habitats and the long aquatic stage of this dragonfly (2-4 years). Chemicals in muck sediments can persist and remain toxic for long periods of time and may be difficult if not impossible to treat. Other concerns identified by researchers include environmental extremes, road kills, disease or predation, and fragmentation of habitat leading to genetic stochasticity.
Survey Methods
Larvae can be sampled for at any time during the growing season but seem to be less active during the cooler water temperatures of late fall and early spring. The bilge pump is used to clear crayfish burrows where the larvae tend to hide. Feeds over meadows or at forest edges by 7 am on hot days, but most active from 9:30 am to 1:30 pm occasionally hanging from twigs. Sometimes they feed in swarms during the day or near sunset. Males patrol territories 2-5 yds over rivulets, darting between hovering points where they pivot in different directions. Females with the rear half of the abdomen look muddy two-toned, and their flickering brown wings are visible at some distance.
Aerial net
Survey Period: From fourth week of May to first week of September
Time of Day: Daytime
Survey Method Comment: Adults

Bilge pump
Survey Period: From third week of May to fourth week of August
Time of Day: Daytime
Water Level: Low Water Levels
Water Turbidity: Low Turbidity
Survey Method Comment: Larvae

D-frame net
Survey Period: From first week of January to fourth week of December
Time of Day: Daytime
Water Level: Low Water Levels
Water Turbidity: Low Turbidity
Survey Method Comment: Larvae

References
Survey References
Martin, J.E.H. 1977. The Insects and Arachnids of Canada (Part 1): Collecting, preparing, and preserving insects, mites, and spiders. Publication 1643. Biosystematics Research Institute, Ottawa.
Zercher, D. 1999. Hine's emerald dragonfly (Somatochlora hineana) recovery plan. Report to USFWS, Fort Snelling. 110pp.
Technical References
Corbet, P. S. 1962. A Biology of Dragonflies. H.F. & G. Witherby Ltd., facsimile reprint 1983 by E.W. Classey Ltd., Oxon, United Kingdom. 247pp.
Cuthrell, D.L. 1999. Special Animal Abstract for Somatochlora hineana (Hine's emerald dragonfly). Michigan Natural Features Inventory, Lansing, MI. 3pp.
Dunkle, S.W. 2000. Dragonflies through Binoculars. Oxford University Press, Oxford. 266pp.
Merritt, R.W. and K.W. Cummins. 1996. An introduction to the aquatic insects of North America, 3rd ed. Kendall/Hunt Publishing Company, Dubuque. 862pp.
Steffens, W.P. 1997. Hine's emerald (Somatochlora hineana) surveys in Michigan's upper peninsula. Report to USFWS. 17pp.
Zercher, D. 1999. Hine's emerald dragonfly (Somatochlora hineana) recovery plan. Report to USFWS, Fort Snelling. 110pp.
More Information