Plants and Animals
Carex billingsii
Three-seed sedge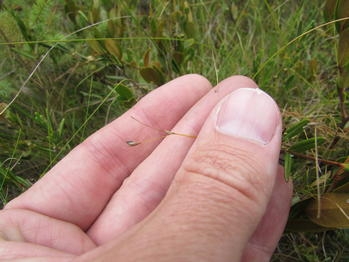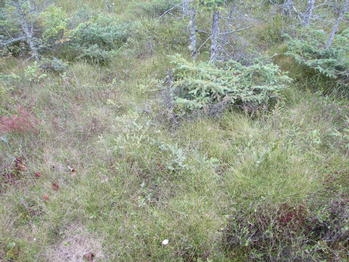 Key Characteristics
Fine, loosely-clumped wetland sedge, 10 to 60 cm tall with slender rhizomes; leaves 0.3 to 0.8 mm wide and rolled-in (i.e., involute), unlike similar C. trisperma that has wider and flat or M-shaped leaves; inflorescence has widely separated spikes with 1 to 2 perigynia each; perigynia 2.4 to 3.8 mm long, many-nerved with a short, smooth beak.
Status and Rank
US Status: No Status/Not Listed
State Status: SC - Special Concern (rare or uncertain; not legally protected)
Global Rank: G5T4T5
State Rank: SNR - Not ranked

Occurrences
| County | Number of Occurrences | Year Last Observed |
| --- | --- | --- |
| Cheboygan | 1 | 2008 |
| Delta | 6 | 2019 |
| Ingham | 1 | 1947 |
| Lake | 1 | 1973 |
| Luce | 2 | 2018 |
| Menominee | 1 | 2010 |
| Osceola | 1 | 1973 |
| Sanilac | 1 | 1999 |
| Tuscola | 1 | 1910 |
| Washtenaw | 1 | 1995 |
| Wexford | 2 | 2011 |
Information is summarized from MNFI's database of rare species and community occurrences. Data may not reflect true distribution since much of the state has not been thoroughly surveyed.
Habitat
Found primarily in open Spaghnum peatlands, occasionally in openings of forested peatlands. Found usually on hummocks in partial to full sun.
Natural Community Types
For each species, lists of natural communities were derived from review of the nearly 6,500 element occurrences in the MNFI database, in addition to herbarium label data for some taxa. In most cases, at least one specimen record exists for each listed natural community. For certain taxa, especially poorly collected or extirpated species of prairie and savanna habitats, natural community lists were derived from inferences from collection sites and habitat preferences in immediately adjacent states (particularly Indiana and Illinois). Natural communities are not listed for those species documented only from altered or ruderal habitats in Michigan, especially for taxa that occur in a variety of habitats outside of the state.
Natural communities are not listed in order of frequency of occurrence, but are rather derived from the full set of natural communities, organized by Ecological Group. In many cases, the general habitat descriptions should provide greater clarity and direction to the surveyor. In future versions of the Rare Species Explorer, we hope to incorporate natural community fidelity ranks for each taxon.
Associated Plants
Sphagnum moss (Sphagnum spp.), speckled alder (Alnus incana), bog-rosemary (Andromeda glaucophylla), running bog sedge (Carex oligosperma), leatherleaf (Chamaedaphne calyculata), tawny cotton-grass (Eriophorum virginicum), sheep-laurel (Kalmia angustifolia), tamarack (Larix laricina), black spruce (Picea mariana), false mayflower (Maianthemum trifolium), labrador-tea (Rhododendron groenlandicum), marsh fern (Thelyptris palustris), white cedar (Thuja occidentalis), and blueberry (Vaccinium sp., V. corymbosum).
Management Recommendations
Highly overlooked species that needs a status survey in northern Michigan. Three-seed sedge is likely more common than previously thought as indicated by new occurrences documented in new locations. This species requires conservation of peatland habitat and protection of the hydrology. Maintain moist, open habitat. It is vulnerable to off-road vehicle impacts and dredging and filling activities.
Survey Methods
Random meander search covers areas that appear likely to have rare taxa, based on habitat and the judgment of the investigator.
Meander search

Survey Period: From first week of June to fourth week of July
References
Survey References
Elzinga, C.L., D.W. Salzer, and J.W. Willoughby. 1998. Measuring and Monitoring Plant Populations. The Nature Conservancy and Bureau of Land Management, Denver. BLM Technical Reference 1730-1. 477pp.
Goff, G.F., G.A. Dawson, and J.J. Rochow. 1982. Site examination for Threatened and Endangered plant species. Environmental Management 6(4): 307-316
Nelson, J.R. 1984. Rare Plant Field Survey Guidelines. In: J.P. Smith and R. York. Inventory of rare and endangered vascular plants of California. 3rd Ed. California Native Plant Society, Berkeley. 174pp.
Nelson, J.R. 1986. Rare Plant Surveys: Techniques For Impact Assessment. Natural Areas Journal 5(3):18-30.
Nelson, J.R. 1987. Rare Plant Surveys: Techniques for Impact Assessment. In: Conservation and management of rare and endangered plants. Ed. T.S. Elias. California Native Plant Society, Sacramento. 8pp.
Technical References
Hipp, A.L. 2008 Field Guide to Wisconsin Sedges, An Introduction to the Genus Carex (Cyperaceae). The University of Wisconsin Press, Madison, WI. 265 pp.
Reznicek, A.A., E.G. Voss, and B.S. Walters. 2011. Carex billingsii (O. W. Knight) C. D. Kirschbaum. Michigan Flora Online. University of Michigan. Web. Available at: https://michiganflora.net/species.aspx?id=918 [Accessed January 10, 2020].
Voss, E.G., and A.A. Reznicek. 2012. Field Manual of Michigan Flora. University of Michigan Press, Ann Arbor, MI. 1008 pp.