Plants and Animals
Neonympha mitchellii mitchellii
Mitchell's satyr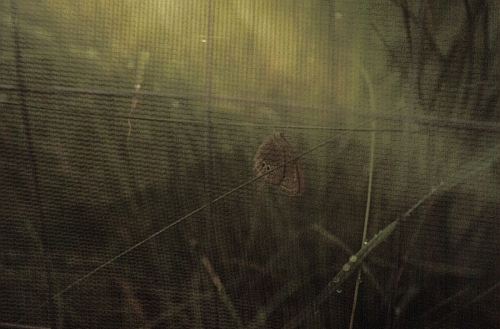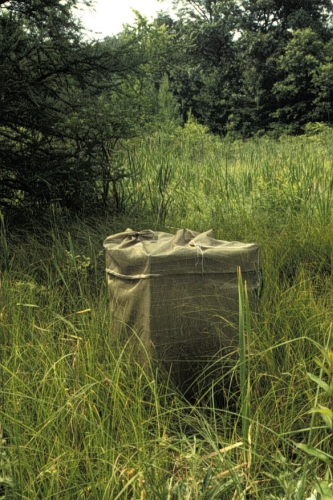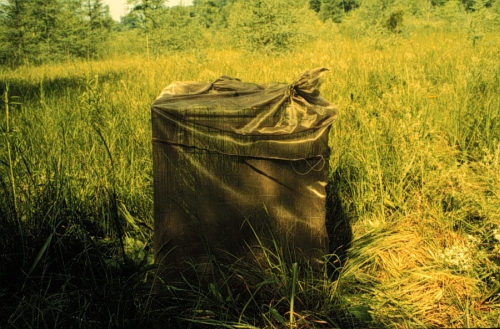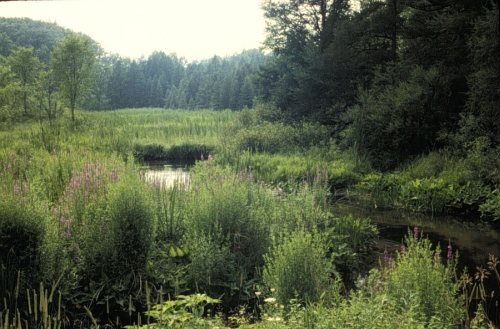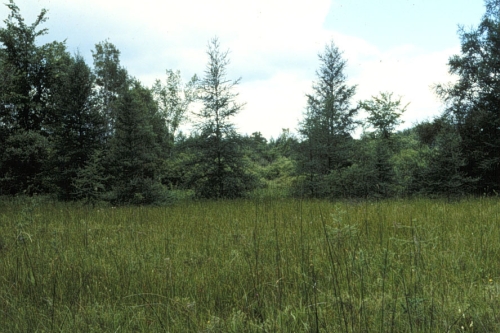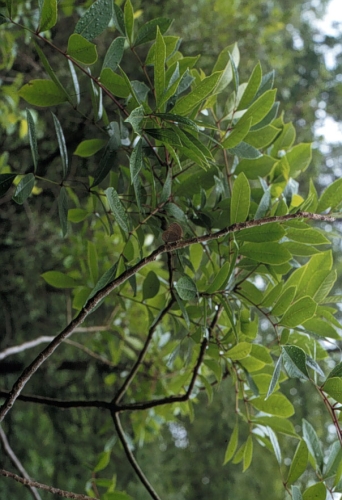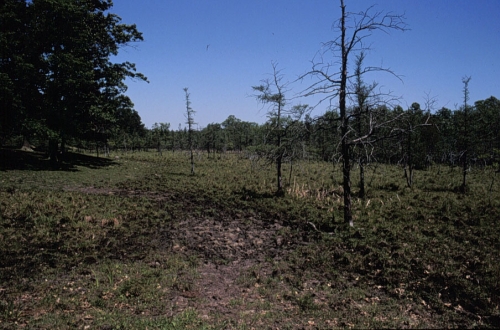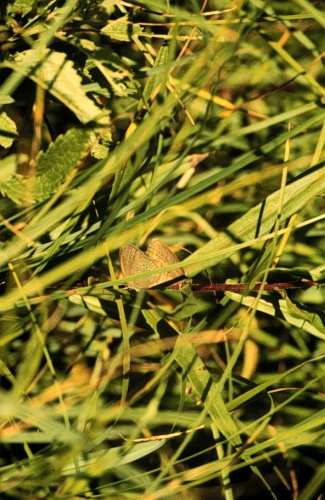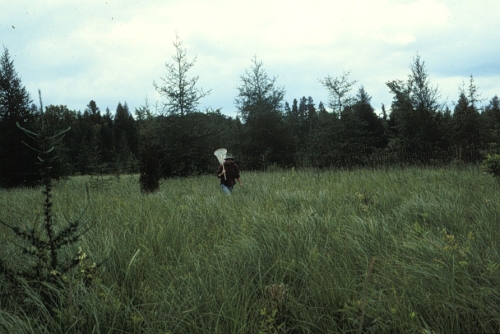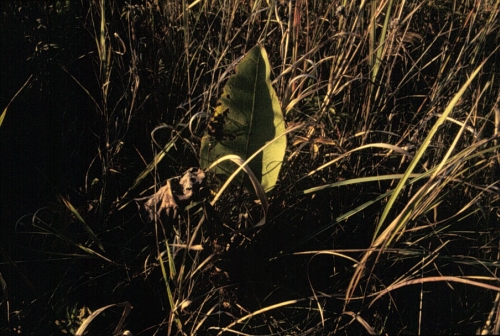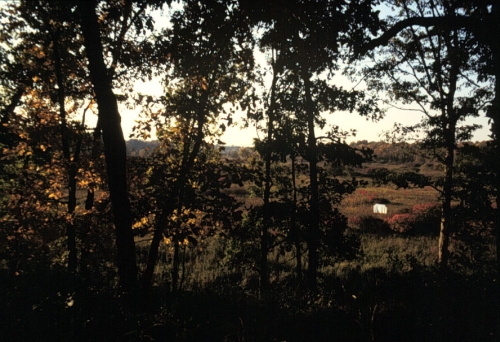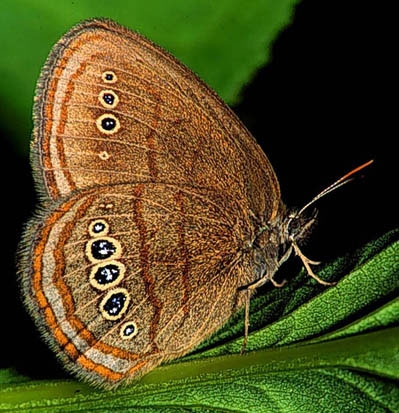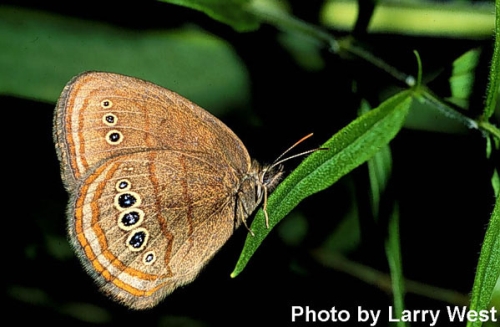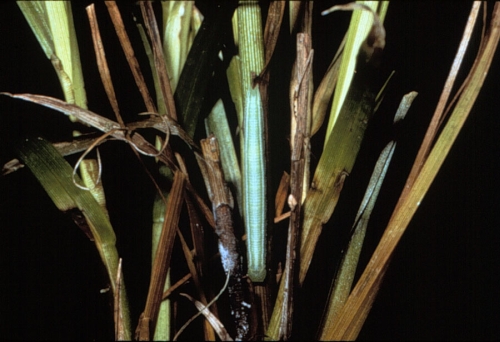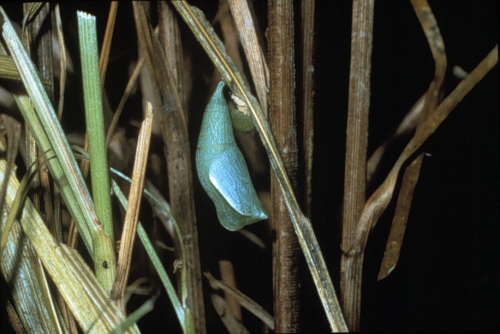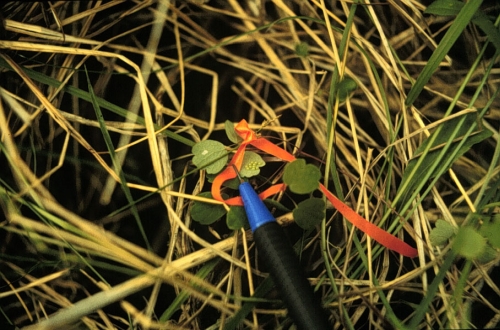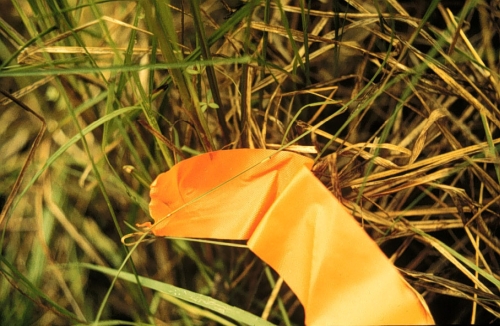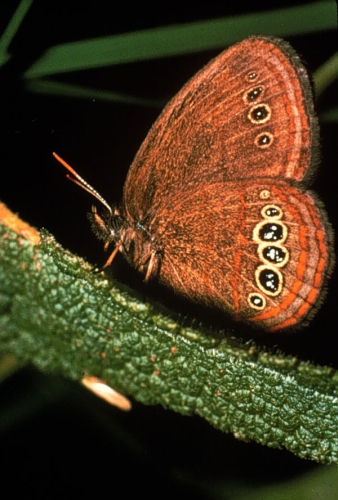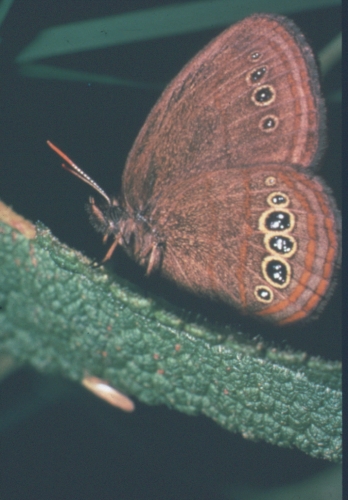 Key Characteristics
Mitchell's satyr is a dark, chocolate brown, medium-sized butterfly with a wing span that ranges from 1.5 to 1.75 inches (3.8-4.4 cm). The ventral surface, or underside, of the forewing and hindwing contains a row of four to five black, yellow-ringed ocelli, or eyespots, with the central three eyespots on the hindwing being the largest. Two orange bands encircle the eyespots. Mature larvae are pale green with pale, longitudinal stripes and a bifurcate tail.
Status and Rank
US Status: LE - Listed Endangered
State Status: E - Endangered (legally protected)
Global Rank: G2T2
State Rank: S1 - Critically imperiled

Occurrences
| County | Number of Occurrences | Year Last Observed |
| --- | --- | --- |
| Barry | 3 | 2012 |
| Berrien | 3 | 2020 |
| Branch | 1 | 2020 |
| Cass | 5 | 2020 |
| Jackson | 4 | 2020 |
| Kalamazoo | 4 | 2009 |
| Lenawee | 1 | 1980 |
| St. Joseph | 2 | 2008 |
| Van Buren | 3 | 2020 |
| Washtenaw | 2 | 2019 |
| Wayne | 1 | 1931 |
Information is summarized from MNFI's database of rare species and community occurrences. Data may not reflect true distribution since much of the state has not been thoroughly surveyed.
Habitat
Although this species' habitat requirements are not yet fully understood, this butterfly appears to be restricted to calcareous wetlands that range along a continuum from open fen, wet prairie, prairie fen, and sedge meadow to shrub-carr and tamarack savanna.
Specific Habitat Needs
Host plant needed in: Prairie fen; Rich tamarack swamp; Southern shrub-carr; Southern wet meadow.
Natural Community Types
For each species, lists of natural communities were derived from review of the nearly 6,500 element occurrences in the MNFI database, in addition to herbarium label data for some taxa. In most cases, at least one specimen record exists for each listed natural community. For certain taxa, especially poorly collected or extirpated species of prairie and savanna habitats, natural community lists were derived from inferences from collection sites and habitat preferences in immediately adjacent states (particularly Indiana and Illinois). Natural communities are not listed for those species documented only from altered or ruderal habitats in Michigan, especially for taxa that occur in a variety of habitats outside of the state.
Natural communities are not listed in order of frequency of occurrence, but are rather derived from the full set of natural communities, organized by Ecological Group. In many cases, the general habitat descriptions should provide greater clarity and direction to the surveyor. In future versions of the Rare Species Explorer, we hope to incorporate natural community fidelity ranks for each taxon.
Management Recommendations
The primary threat to the continued survival of this species is habitat loss and modification. Many of the wetland complexes occupied currently have been altered or drained for agriculture or development. Wetland alteration is responsible for extirpating the single known satyr population in Ohio. Wetland alteration also can lead to invasion by exotic plant species such as glossy buckthorn (Rhamnus frangula), purple loosestrife (Lythrum salicaria), common buckthorn (Rhamnus cathartica), and the common reed (Phragmites australis). In addition, landscape-scale processes that may be important for maintaining suitable satyr habitat and/or creating new habitat, such as wildfires, fluctuations in hydrologic regimes, and flooding from beaver (Castor canadensis) activity, have been virtually eliminated or altered throughout the species' range.
Active Period
Flight from third week of June to third week of July
Survey Methods
The best way to survey for this species is to conduct visual surveys while meandering through suitable habitat, particularly along the interface of open wetland habitat and shrubby/forested vegetation. This species' behavior and activity appear to be strongly influenced by ambient temperatures and solar radiation. Mitchell's satyr are most active and easiest to observe on warm (80-90F), overcast days, and their activity is significantly reduced during hot (>90F), sunny days. At some sites, Mitchell's satyrs also have exhibited a diurnal activity pattern in which individuals are active during the cooler parts of the day (i.e., early morning and late afternoon) and appear to rest during the warmest part of the day (i.e., midday).
Meander search through suitable habitat
Survey Period: From third week of June to third week of July
Time of Day: Daytime
Cloud Cover: Overcast
Air Temperature: Warm

References
Survey References
Martin, J.E.H. 1977. The Insects and Arachnids of Canada (Part 1): Collecting, preparing, and preserving insects, mites, and spiders. Publication 1643. Biosystematics Research Institute, Ottawa.
Technical References
Evers, D.C. 1994. Endangered and Threatened Wildlife of Michigan. The University of Michigan Press, Ann Arbor. 412pp.
Lee, Y. 2002. Special Animal Abstract for Appalachina sayana (Spike-lip crater). Michigan Natural Features Inventory. Lansing, MI. 4pp.
McAlpine, W.S., S.P. Hubbell, and T.E. Pliske. 1960. The distribution, habits, and life history of Euptychia mitchellii (Satyridae). Journal of the Lepidopterists' Society 14(3):209-226.
Opler, P.A. and G.O. Krizek. 1984. Butterflies East of the Great Plains. Johns Hopkins University Press, Baltimore. 294pp.
Opler, P.A. and V. Malikul. 1992. Eastern Butterflies. Houghton Mifflin Company, New York. 396pp.