Plants and Animals
Erynnis martialis
Mottled duskywing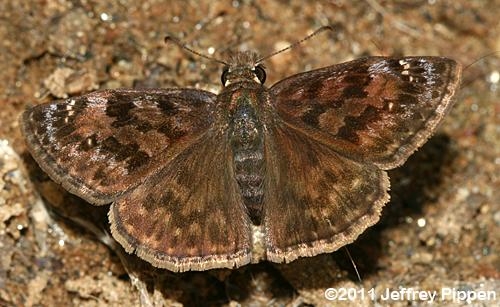 Key Characteristics
A medium-sized skipper with a wingspan of 2.5 to 3.3 cm. This skipper is named for its strongly mottled pattern on the upper wings. The forewing has a purplish sheen with small, apical white spots and the undersurface of the hindwing has dull yellowish spots. Larvae are roughly 2.5 cm in length at maturity with a dark head capsule. Second generation mature larvae overwinter in silk leaf nests, emerging as adults in the spring.
Status and Rank
US Status: No Status/Not Listed
State Status: SC - Special Concern (rare or uncertain; not legally protected)
Global Rank: G3 - Vulnerable
State Rank: SU - Unrankable

Occurrences
| County | Number of Occurrences | Year Last Observed |
| --- | --- | --- |
| Barry | 1 | 1968 |
| Calhoun | 1 | 1951 |
| Cass | 1 | 1987 |
| Crawford | 1 | 1942 |
| Jackson | 1 | 1955 |
| Kalamazoo | 1 | 1981 |
| Kent | 1 | 1955 |
| Lake | 1 | 1951 |
| Lapeer | 1 | 1965 |
| Livingston | 3 | 1967 |
| Montcalm | 2 | 1954 |
| Oakland | 2 | 1966 |
| Oscoda | 2 | 1967 |
| Presque Isle | 1 | 2019 |
| Washtenaw | 1 | 1962 |
Information is summarized from MNFI's database of rare species and community occurrences. Data may not reflect true distribution since much of the state has not been thoroughly surveyed.
Habitat
In Michigan, larvae feed on New Jersey tea (Ceanothus americanus and C. herbaceous) possibly wild lilac (C. sanguineus; State Threatened). Mottled duskywings primarily inhabit dry habitats like barrens, grasslands, and glades but may be found in a variety of habitats where its hostplants grow. Adults nectar on a variety of flowering plants that co-occur with the host plant.
Natural Community Types
For each species, lists of natural communities were derived from review of the nearly 6,500 element occurrences in the MNFI database, in addition to herbarium label data for some taxa. In most cases, at least one specimen record exists for each listed natural community. For certain taxa, especially poorly collected or extirpated species of prairie and savanna habitats, natural community lists were derived from inferences from collection sites and habitat preferences in immediately adjacent states (particularly Indiana and Illinois). Natural communities are not listed for those species documented only from altered or ruderal habitats in Michigan, especially for taxa that occur in a variety of habitats outside of the state.
Natural communities are not listed in order of frequency of occurrence, but are rather derived from the full set of natural communities, organized by Ecological Group. In many cases, the general habitat descriptions should provide greater clarity and direction to the surveyor. In future versions of the Rare Species Explorer, we hope to incorporate natural community fidelity ranks for each taxon.
Management Recommendations
Maintain open grasslands and barrens where host plants grow. Deer herbivory has impacted this species across its range. In the serpentine barrens of Chester County, Pennsylvania the last two known colonies were likely extirpated due to deer herbivory of host plants (Schweitzer et al. 2011). Other threats to this species include disease, pathogens and parasites; industrial, residential and recreational development; decline of nectar sources; and use of pesticides and herbicides. In general, surveys are needed to determine this species' current status and distribution in the state. Documented populations should be protected and maintained. More research is needed to determine adequate and suitable habitat at known sites, including what are the sufficient densities of host plant needed to maintain viable skipper populations.
Active Period
Flight from second week of May to third week of August
Survey Methods
An avid hilltopper, look for this species in the highest spots in suitable habitat. Males can be found "puddling" – drinking water from moist soil or roads to obtain essential minerals. This skipper flies low to the ground in a fast, erratic pattern making it difficult to identify while in flight. The best way to survey for this species is to conduct visual surveys while meandering through habitat looking for nectaring adult skippers on the flowering host plants. A pair of close focusing binoculars may be used to help locate individuals. Most butterfly surveys should be conducted on warm, sunny days during the flight period with little to no wind.
Visual, aerial net
Survey Period: From fourth week of May to third week of August
Time of Day: Daytime
Humidity: Dry
Cloud Cover: Overcast
Air Temperature: Above 60 degrees
Wind: No Wind
Survey Method Comment: Here we present ideal conditions, however surveys can be conducted during other conditions as well.

References
Survey References
Klots, A.B. 1951. Peterson Field Guides: Eastern Butterflies. Houghton Mifflin Company, Boston. 349pp.
Martin, J.E.H. 1977. The Insects and Arachnids of Canada (Part 1): Collecting, preparing, and preserving insects, mites, and spiders. Publication 1643. Biosystematics Research Institute, Ottawa.
Technical References
Belth, J.E. 2013. Butterflies of Indiana: A Field Guide. Indiana University Press, Bloomington, IN. 323pp.
Nielsen, M.C. 1999. Michigan butterflies and skippers: A field guide and reference. Michigan State University Extension Bulletin E-2675, East Lansing. 248pp.
Olson, S. 2002. Conservation Assessment for Mottled Duskywing (Erynnis martialis). USDA Forest Service, Eastern Region.
Schweitzer, D. F., M.C. Minno, and D.L. Wagner. 2011. Rare, Declining, and Poorly Known Butterflies and Moths (Lepidoptera) of Forests and Woodlands in the Eastern United States. U.S. Forest Service, Forest Health Technology Enterprise Team, FHTET-2011-01. USDA Forest Service, Morgantown, West Virginia. 517pp.
Scott, J. 1986. The Butterflies of North America: A Natural History and Field Guide. Stanford University Press, Stanford, California. 584 pages.