Plants and Animals
Papaipema silphii
Silphium borer moth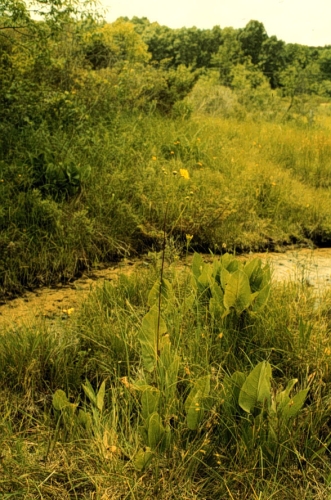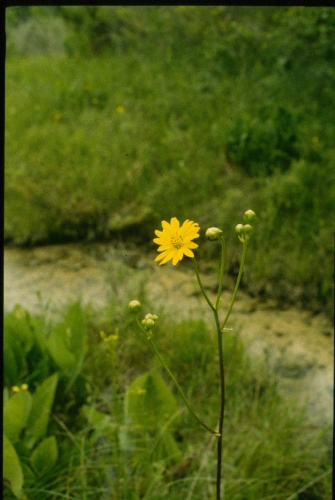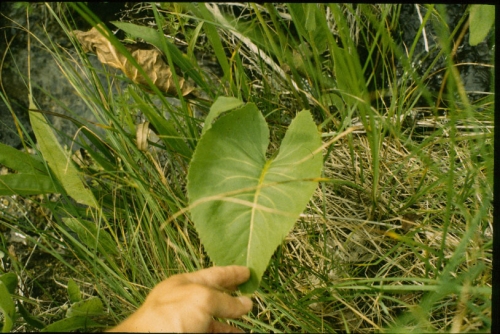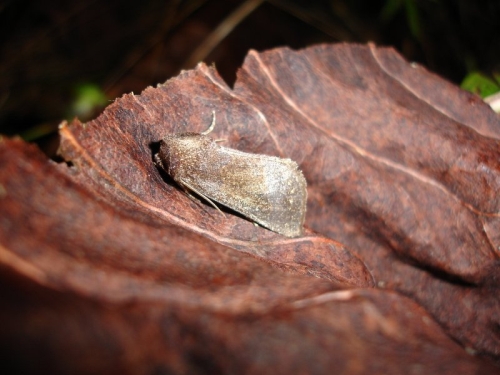 Key Characteristics
The Silphium borer is one of the largest Papaipema species in Michigan with a wingspan of1.6-2.0 inches ( 4.0-5.0 cm). It can easily be confused with the two sunflower borers, Papaipema necopina and P. maritima, as well as the plain form of P. beeriana. The Silphium borer moth is brownish-black with a dusting of white scales on the dorsal forewings. When fresh, this species has a distinctive purplish cast and a large tuft of hair-like scales on the thorax. Larvae of P. silphii are pinkish in color with a large, brown head and may reach a length of 5.0 cm or more at maturity.
Status and Rank
US Status: No Status/Not Listed
State Status: T - Threatened (legally protected)
Global Rank: G3G4 - Rank is uncertain, ranging from vulnerable to apparently secure
State Rank: S1 - Critically imperiled

Occurrences
| County | Number of Occurrences | Year Last Observed |
| --- | --- | --- |
| Berrien | 1 | 1985 |
| Cass | 2 | 1997 |
| Jackson | 3 | 1989 |
| Monroe | 2 | 2011 |
| St. Joseph | 2 | 1989 |
| Tuscola | 1 | 1989 |
| Washtenaw | 1 | 1996 |
Information is summarized from MNFI's database of rare species and community occurrences. Data may not reflect true distribution since much of the state has not been thoroughly surveyed.
Habitat
The Silphium borer occurs in a variety of prairie habitats including mesic prairie, prairie fen, and lakeplain mesic prairie. In many cases, only a remnant of the former habitat remains and frequently it is along a roadside or railroad where past maintenance activities have kept the habitat open. Formerly, controlled burns were frequently used to maintain railroad rights-of-way, thus enhancing the remnant prairies. However, the fire-sensitive borer moth would have survived these burns only if they were properly timed or if some individuals escaped the fires and later recolonized the area.
Specific Habitat Needs
Host plant needed in: Mesic prairie; Mesic sand prairie; Prairie fen.
Natural Community Types
For each species, lists of natural communities were derived from review of the nearly 6,500 element occurrences in the MNFI database, in addition to herbarium label data for some taxa. In most cases, at least one specimen record exists for each listed natural community. For certain taxa, especially poorly collected or extirpated species of prairie and savanna habitats, natural community lists were derived from inferences from collection sites and habitat preferences in immediately adjacent states (particularly Indiana and Illinois). Natural communities are not listed for those species documented only from altered or ruderal habitats in Michigan, especially for taxa that occur in a variety of habitats outside of the state.
Natural communities are not listed in order of frequency of occurrence, but are rather derived from the full set of natural communities, organized by Ecological Group. In many cases, the general habitat descriptions should provide greater clarity and direction to the surveyor. In future versions of the Rare Species Explorer, we hope to incorporate natural community fidelity ranks for each taxon.
Management Recommendations
Several populations are on roadsides or within railroad rights-of-way where intensive maintenance activities such as bulldozing and herbicides can eliminate a population. Landowners and managers should be contacted at all sites and advised of protection and management concerns. Habitat management for prairies typically includes brush removal and prescribed burns. The eggs and young larvae of this species and all other Papaipema are extremely sensitive to fires. If prescribed burns are necessary, they should be conducted only in late summer, after the larvae are within a rootstock and before adults emerge in early fall. Adults are quite sedentary and would not be expected to quickly recolonize an isolated site from which they had been extirpated, though they should move quickly between adjacent burn units.
Active Period
Flight from fourth week of September to third week of October
Survey Methods
The best way to survey for this species is by blacklighting, a technique where a sheet is stretched across two trees or poles and an ultraviolet light is used to attract moths to the sheet. Moths can be collected directly from the sheet. Insects come to light usually in largest numbers on still, dark, cloudy nights when both temperature and humidity are high. Reports of adults or larvae of this species should be documented with a voucher specimen and verification by a species expert.
Blacklighting
Survey Period: From second week of September to third week of October
Time of Day: Night

References
Survey References
Hessel, S.A. 1954. A guide to collecting the plant boring larvae of the genus Papaipema (Noctuidae). Lepidopteran News 8:57-63.
Martin, J.E.H. 1977. The Insects and Arachnids of Canada (Part 1): Collecting, preparing, and preserving insects, mites, and spiders. Publication 1643. Biosystematics Research Institute, Ottawa.
Technical References
Cuthrell, D.L. 2000. Special Animal Abstract for Papaipema silphii (Silphium borer moth). Michigan Natural Features Inventory, Lansing, MI 3pp.
Evers, D.C. 1994. Endangered and Threatened Wildlife of Michigan. The University of Michigan Press, Ann Arbor. 412pp.
Nielsen, M. 1995. Detecting Noctuid borers. Entomological Notes. The Michigan Entomological Society 24: 2pp.
Rings, R.W., E.H. Metzler, F.J. Arnold, and D.H. Harris. 1992. The Owlet Moths of Ohio Order Lepidoptera Family Noctuidae. Ohio Biological Survey Bulletin New Series 9(2):219pp.