Plants and Animals
Faxonius immunis
Calico crayfish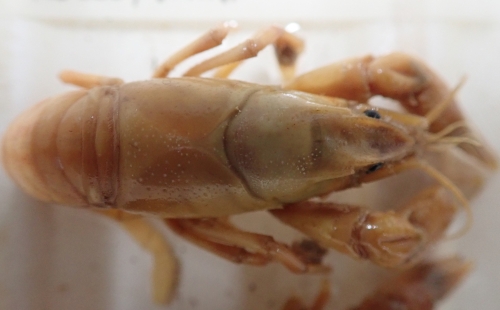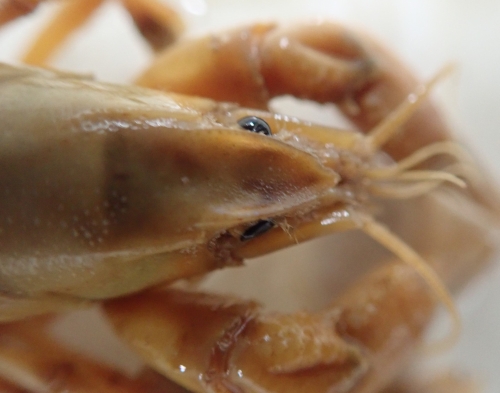 Key Characteristics
The calico crayfish is a small- to medium-sized crayfish with a maximum carapace length of 4.0 cm. This crayfish's color is gray to light green, with a gray or cream colored stripe of variable width running down the midline of the carapace and abdomen. Tips of the fingers are red or orange. The rostrum is moderately excavated with margins that are slightly convex and terminate in small spines, which can be small enough in larger individuals that they appear absent to the naked eye. The areola is narrowly open. Calico crayfish differs from viril crayfish (Faxonius virilus), a very similar species of the same genus, by having much shorter form I gonopod elements that curve close to 90 degrees to the main shaft of the gonopod. Another key character of the Calico crayfish is a deep incision at the base of the movable finger of the chela (claw).
Status and Rank
US Status: No Status/Not Listed
State Status: SC - Special Concern (rare or uncertain; not legally protected)
Global Rank: G5 - Secure
State Rank: S4 - Apparently secure

Occurrences
| County | Number of Occurrences | Year Last Observed |
| --- | --- | --- |
| Arenac | 1 | 2015 |
| Barry | 1 | 1965 |
| Bay | 1 | 2015 |
| Berrien | 1 | 2015 |
| Calhoun | 1 | 2014 |
| Clinton | 3 | 2015 |
| Eaton | 3 | 1967 |
| Huron | 1 | 2015 |
| Ingham | 1 | 2016 |
| Iron | 1 | 2016 |
| Kalkaska | 1 | 2015 |
| Kent | 4 | 2014 |
| Lenawee | 3 | 2015 |
| Macomb | 2 | 2015 |
| Menominee | 1 | 2016 |
| Monroe | 9 | 2018 |
| Montcalm | 1 | 2015 |
| Oakland | 1 | 2015 |
| Saginaw | 4 | 2015 |
| Sanilac | 5 | 2015 |
| Shiawassee | 3 | 2015 |
| St. Clair | 1 | 2015 |
| Tuscola | 1 | 2015 |
| Van Buren | 2 | 2015 |
| Wayne | 1 | 1968 |
Information is summarized from MNFI's database of rare species and community occurrences. Data may not reflect true distribution since much of the state has not been thoroughly surveyed.
Habitat
Calico crayfish are found in a wide variety of aquatic habitats including small streams with gravel substrate, slow flowing streams and rivers with mud substrate, lakes, ponds, and well-vegetated flooded ditches. They often inhabit slow moving or stagnant waters and are resistant to conditions with low dissolved oxygen and high turbidity. They can use simple burrows to avoid desiccation in shallow ponds or ditches that may be dry for short periods during the year.
Natural Community Types
Headwater stream (1st-2nd order), pool
Inland lake, littoral, benthic
Mainstem stream (3rd-4th order), pool
River (5th-6th order), pool
For each species, lists of natural communities were derived from review of the nearly 6,500 element occurrences in the MNFI database, in addition to herbarium label data for some taxa. In most cases, at least one specimen record exists for each listed natural community. For certain taxa, especially poorly collected or extirpated species of prairie and savanna habitats, natural community lists were derived from inferences from collection sites and habitat preferences in immediately adjacent states (particularly Indiana and Illinois). Natural communities are not listed for those species documented only from altered or ruderal habitats in Michigan, especially for taxa that occur in a variety of habitats outside of the state.
Natural communities are not listed in order of frequency of occurrence, but are rather derived from the full set of natural communities, organized by Ecological Group. In many cases, the general habitat descriptions should provide greater clarity and direction to the surveyor. In future versions of the Rare Species Explorer, we hope to incorporate natural community fidelity ranks for each taxon.
Management Recommendations
The invasive red swamp crayfish (Procambarus clarkii) and rusty crayfish (Faxonius rusticus) can displace native crayfish species. Minimizing the spread of these harmful species can increase the viability of calico crayfish populations as well as benefit other components of the riparian ecosystems. Vectors for introduction of red swamp crayfish and rusty crayfish include live food markets, bait shops, and improper handling after classroom use. Anthropogenic changes to river and lake ecosystems such as shoreline hardening, dredging, and point source discharges should be avoided. Contamination from heavy metals and the introduction of non-native predatory fish can also negatively impact calico crayfish populations. Calcium is utilized by crayfish to grow and maintain their exoskeletons. Pollution that reduces calcium concentration in the water where crayfish live can have an especially negative impact.
Active Period
Active from first week of March to fourth week of October
Survey Methods
Calico crayfish can be collected with seine nets, dip nets, minnow traps, and by hand. Baited minnow traps set overnight can be very effective in collecting large numbers of crayfish. Calico crayfish can be captured by excavating their burrows, but this method causes a relatively high disturbance and should be avoided if possible.
References
Survey References
Creaser, E.P. 1930. The Michigan decapod crustaceans. Michigan Academy of Science Arts and Letters 13: 257-276.
Lippson, R.L. 1975. "The Distribution of the Crayfish of Michigan with Aspects of Their Life Cycle and Physiology." PhD dissertation, Michigan State University.
Taylor, C.A., G.A. Schuster, and D.B. Wylie. 2015. Field Guide to Crayfishes of the Midwest. Manual 15. Illinois Natural History Survey, Champaign. x+145pp.
Technical References
Crandall, K.A., and S. De Grave. 2017. An updated classification of the freshwater crayfishes (Decapoda: Astacidea) of the world, with a complete species list. Journal of Crustacean Biology 37: 615-653.
Smith, K., B. Roth, M. Jones, D. Hayes, S. Herbst, and N. Popoff. 2019. Changes in the distribution of Michigan crayfishes and the influence of invasive rusty crayfish (Faxonius rusticus) on native crayfish substrate associations. Biological Invasions 21: 637–656.
Smith, K., B. Roth, S. Herbst, R. Thoma, N. Popoff, D. Hayes, and M. Jones. 2018. Assessment of invasion risks for red swamp crayfish (Procambarus clarkii) in Michigan, USA. Management of Biological Invasions 9: 405–415.
Tack, P.I. 1941. The life history and ecology of the crayfish Cambarus immunis Hagen. American Midland Naturalist 25:420-446.
Taylor, C.A., G.A. Schuster, J.E. Cooper, R.J. DiStefano, A.G. Eversole, P. Hamr, H.H. Hobbs III, H.W. Robison, C.E. Skelton, and R.F. Thoma. 2007. A Reassessment of the Conservation Status of Crayfishes of the United States and Canada after 10+ Years of Increased Awareness, Fisheries 32: 372-389.