Plants and Animals
Chondestes grammacus
Lark sparrow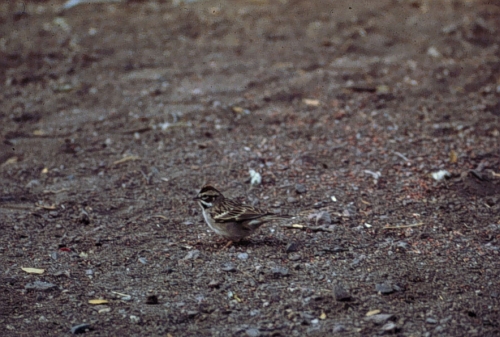 Key Characteristics
Lark sparrows are a large sparrow with a bold color pattern on the head consisting of chestnut cheeks and crown with a white central stripe running from the bill to the back of the head. Black lines border the cheek patch, crown, and throat. The clear white breast has a dark central chest spot. The Lark sparrow is believed to be extirpated from Michigan and should be reported to Michigan Natural Features Inventory or the Michigan Department of Natural Resources immediately if one is sighted in the state.
Status and Rank
US Status: No Status/Not Listed
State Status: X - Presumed extirpated (legally 'threatened' if rediscovered)
Global Rank: G5 - Secure
State Rank: SNA - Not applicable (element is not a suitable target for conservation)

Occurrences
| County | Number of Occurrences | Year Last Observed |
| --- | --- | --- |
| Calhoun | 1 | 2015 |
| Kalamazoo | 1 | 2015 |
| Lenawee | 1 | 2016 |
| Monroe | 1 | 2015 |
Information is summarized from MNFI's database of rare species and community occurrences. Data may not reflect true distribution since much of the state has not been thoroughly surveyed.
Habitat
Lark sparrows utilize a variety of grasslands, fields, and savannas including cultivated areas and lawns. Occasional shrubs are tolerated and may be used as song perches but dense shrubby areas are avoided.
Natural Community Types
For each species, lists of natural communities were derived from review of the nearly 6,500 element occurrences in the MNFI database, in addition to herbarium label data for some taxa. In most cases, at least one specimen record exists for each listed natural community. For certain taxa, especially poorly collected or extirpated species of prairie and savanna habitats, natural community lists were derived from inferences from collection sites and habitat preferences in immediately adjacent states (particularly Indiana and Illinois). Natural communities are not listed for those species documented only from altered or ruderal habitats in Michigan, especially for taxa that occur in a variety of habitats outside of the state.
Natural communities are not listed in order of frequency of occurrence, but are rather derived from the full set of natural communities, organized by Ecological Group. In many cases, the general habitat descriptions should provide greater clarity and direction to the surveyor. In future versions of the Rare Species Explorer, we hope to incorporate natural community fidelity ranks for each taxon.
Management Recommendations
If any management can be done to reestablish Lark sparrows in Michigan it would be very similar to that recommended for other grassland birds. Mowing, brush clearing, herbicide and insecticide applications, and prescribed burning should not be considered during the breeding season from April through August. Non-game wildlife biologists should be consulted before any management plan is implemented as a permit may be required.
Active Period
Migration from fourth week of April to second week of May
Migration from fourth week of August to fourth week of September
Nesting from first week of May to fourth week of June
Survey Methods
If surveys are conducted for Lark sparrows roadside surveys in suitable habitat using call playback would be the most efficient method of covering a large area.
Call playback in suitable habitat
Survey Period: From first week of May to fourth week of June
Time of Day: Morning (sunrise)

References
Survey References
Bibby, C.J., N.D. Burgess, and D.A. Hill. 1992. Bird Census Techniques. Academic Press, New York.
Technical References
Evers, D.C. 1994. Endangered and Threatened Wildlife of Michigan. The University of Michigan Press, Ann Arbor. 412pp.
Sibley, D.A. 2000. The Sibley Guide to Birds. Knopf, Toronto. 544pp.