Plants and Animals
Setophaga kirtlandii
Kirtland's warbler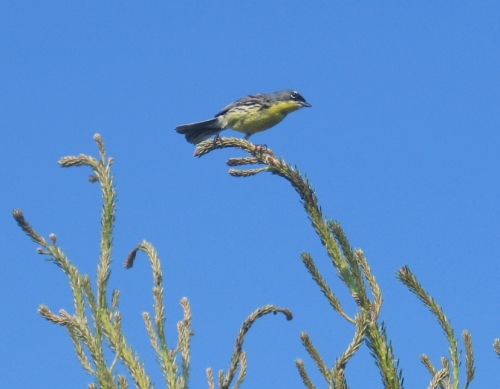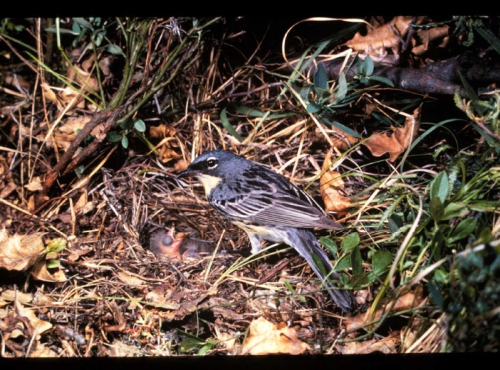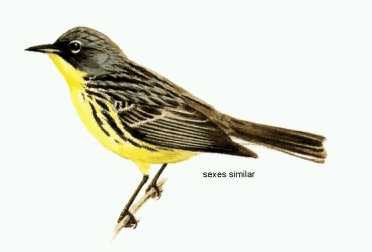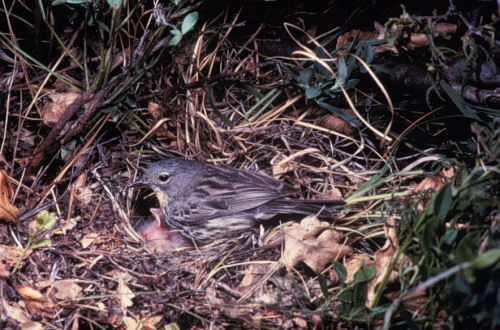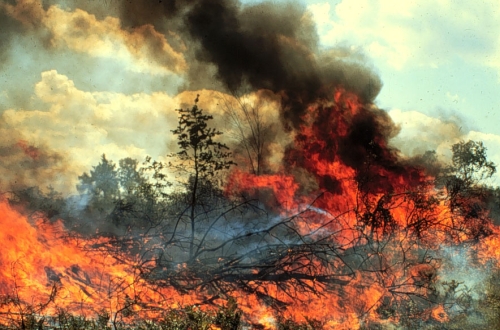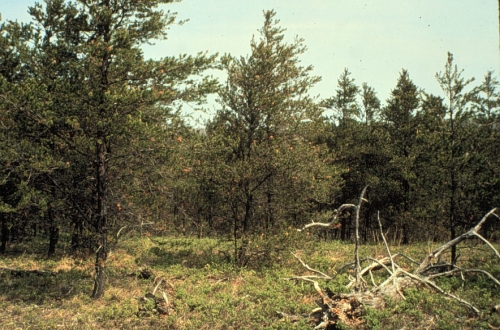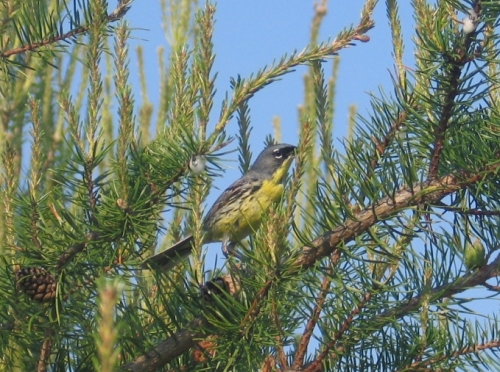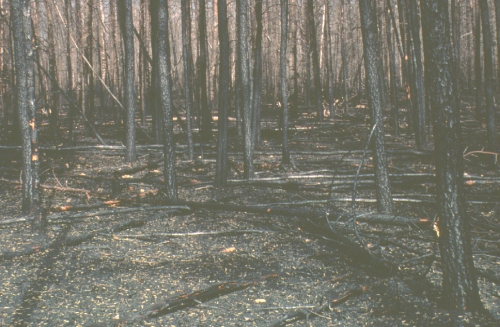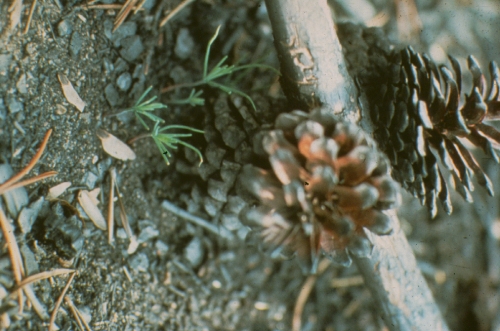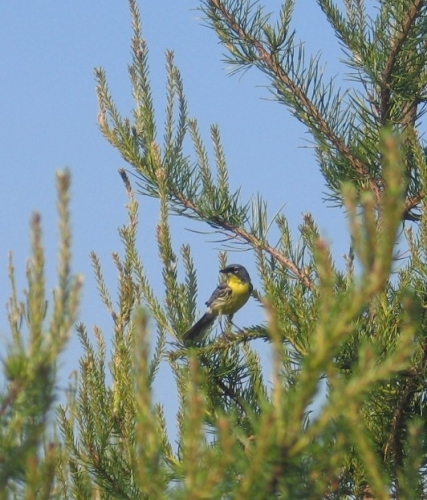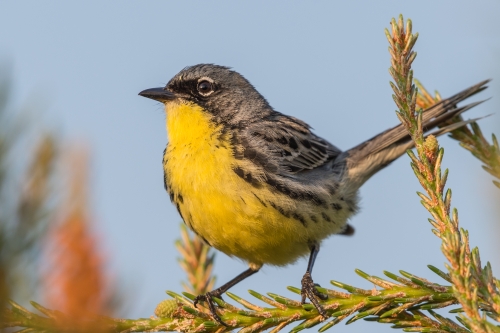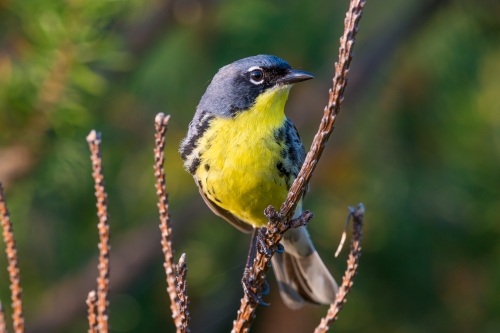 Key Characteristics
A relatively large wood warbler with adults 5 ¾ inches (14.6cm) in length and weighing 12-15 grams. Adults with a yellow breast with black streaks confined to the sides; two white wing bars, and a heavily streaked blue-gray back. The distinctive white eye ring is broken at the front and back of the eye. The adult female is less colorful than the male, having gray cheeks, paler streaked sides and breast and a grayish-brown back. The Kirtland's warbler persistent tail-pumping habit is similar to that of the Palm Warbler (Dendroica palmarum) and Prairie Warbler (Dendroica discolor).
Status and Rank
US Status: No Status/Not Listed
State Status: E - Endangered (legally protected)
Global Rank: G3G4 - Rank is uncertain, ranging from vulnerable to apparently secure
State Rank: S3 - Vulnerable

Occurrences
| County | Number of Occurrences | Year Last Observed |
| --- | --- | --- |
| Alcona | 2 | 2010 |
| Baraga | 1 | 2013 |
| Chippewa | 4 | 2012 |
| Clare | 1 | 2010 |
| Crawford | 5 | 2023 |
| Delta | 3 | 2012 |
| Grand Traverse | 1 | 2008 |
| Iosco | 4 | 2010 |
| Kalkaska | 5 | 2023 |
| Luce | 2 | 2012 |
| Marquette | 6 | 2013 |
| Missaukee | 1 | 2010 |
| Montmorency | 3 | 2023 |
| Ogemaw | 2 | 2010 |
| Oscoda | 6 | 2023 |
| Otsego | 1 | 2023 |
| Presque Isle | 1 | 2010 |
| Roscommon | 6 | 2010 |
| Schoolcraft | 3 | 2012 |
| Wexford | 1 | 1977 |
Information is summarized from MNFI's database of rare species and community occurrences. Data may not reflect true distribution since much of the state has not been thoroughly surveyed.
Habitat
Young Jack pine stands.
Natural Community Types
For each species, lists of natural communities were derived from review of the nearly 6,500 element occurrences in the MNFI database, in addition to herbarium label data for some taxa. In most cases, at least one specimen record exists for each listed natural community. For certain taxa, especially poorly collected or extirpated species of prairie and savanna habitats, natural community lists were derived from inferences from collection sites and habitat preferences in immediately adjacent states (particularly Indiana and Illinois). Natural communities are not listed for those species documented only from altered or ruderal habitats in Michigan, especially for taxa that occur in a variety of habitats outside of the state.
Natural communities are not listed in order of frequency of occurrence, but are rather derived from the full set of natural communities, organized by Ecological Group. In many cases, the general habitat descriptions should provide greater clarity and direction to the surveyor. In future versions of the Rare Species Explorer, we hope to incorporate natural community fidelity ranks for each taxon.
Management Recommendations
Each year several thousand acres of jack pines are burned (occasionally), seeded, planted, and commercially harvested on a 50-year rotation cycle. This system is designed to provide enough suitable nesting habitat at all times to support the target population of 1,000 singing males. Kirtland's warbler breeding habitat is short-lived and progresses rapidly to an unsuitable condition as the trees age, so continuous intensive management practices cannot stop once reclassification or delisting occurs. Occupied Kirtland's warbler habitats are closed to visitors during the May 1 through August 15 (September 10 for selected areas) breeding season except for guided tours originating from the Grayling Holiday Inn or U.S. Forest Service District Ranger Office in Mio.
Active Period
Migration from first week of May to second week of May
Migration from third week of August to fourth week of September
Nesting from third week of May to second week of August
Survey Methods
An annual census of singing males by the USFWS and the MDNR uses straight line compass transects or in small areas, meander surveys.
Transect or meander survey
Survey Period: From second week of May to fourth week of June
Time of Day: Morning (sunrise)

References
Survey References
Bibby, C.J., N.D. Burgess, and D.A. Hill. 1992. Bird Census Techniques. Academic Press, New York.
Technical References
Evers, D.C. 1994. Endangered and Threatened Wildlife of Michigan. The University of Michigan Press, Ann Arbor. 412pp.
Olson, J. A. 2002. Special Animal Abstract for Dendroica kirtlandii (Kirtland's warbler). Michigan Natural Features Inventory, Lansing, MI. 5pp.
More Information